Swabian car and truck manufacturer
Over the last few decades, blast machine experts at Wheelabrator in Zürich, Switzerland, have been working with vehicle manufacturers on the evolution of ever more complex blast machines for ever more complex tasks.
Evolution is not just about new technology or increased complexity, it's also about adaptability: a Wheelabrator hanger-type MKD blast machine that was installed in the 1970s at a Swabian car and truck manufacturer's facility in Mannheim, Germany, is still reliably blasting axles and flywheels today.
In other areas of automotive production, such as cylinder heads and engine blocks, requirements have changed so drastically that new blast technology and equipment have to be developed constantly.
The glimpse into vehicle production is fascinating: optimised use of space, highest levels of automation, and ever denser integration have turned blast machines the size of family homes into complex labyrinths that are adapted, added to and modified all the time.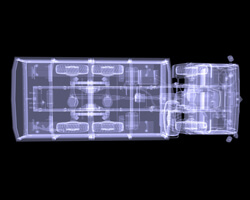 This strategic evolution is carried out on whole fleets of blast machines covering vast product ranges, each designed specifically for a given task and then continuously optimised.
Blasting at the cutting edge
Super-efficient blasting of cylinder heads, for example, is extremely important in order to meet tightening emission and residual particle standards. It's an area that never stops moving forward, with new engine types added all the time.
The internal areas of these components have become particularly complex and can no longer be treated by an external blast machine. Together with experts at the customer, Wheelabrator has been developing processes that ensure complex parts are cleaned efficiently and effectively, leaving no loose residue on or inside the workpiece.
Internal air blasting is becoming more and important here, due to the increasing complexity of the internal areas of modern engine parts. These engine designs quickly stretch the limits of existing blast equipment.
That's why the team from Switzerland has been working with airblast experts at the Wheelabrator Technology Centre in Metelen, Germany, to develop a test machine for internal blasting which is now installed at the customer site, a truck engine production location in Mannheim.
The equipment is based on a DS-1 robot manipulator blast machine and features a manipulator that is easy to modify to accommodate a range of test parts. The machine is loaded manually, by a 'KBK' light crane system. The blast process is then carried out by an adjustable blast nozzle that is moved by a KUKA robot. The blast nozzle can be exchanged via a quick release system and can therefore be adapted to suit the required blast process perfectly. This allows both Wheelabrator team and customer to carry out tests on new workpieces, to keep evolving blast processes efficiently directly on site.
How to look after a blast machine fleet
Bernhard Seuffert, project manager at Wheelabrator, explains how the team looks after and strategically develops fleets of machines in complex production environments: "We hold annual meetings to share insight and feedback with experts from various departments at the customer (machine planning, maintenance, operations). Issues and suggestions raised there then lead the development of equipment and processes; information about upcoming requirements helps plan upgrades and improvements, to ensure all machines perform as they should at all times and are as efficient as they can be."
"It goes without saying that everything we do for this particular customer is extremely sophisticated from a technological perspective. The biggest challenge in the automotive industry, however, are the time scales within which work has to be completed. Concerns about interruptions to production are a constant presence and meeting deadlines is of the utmost importance. We've always been able to stay within these strict time frames and have earned the customer's trust in our ability to deliver."
It's getting even more complex – and modular
So what does a blast machine fleet in automotive manufacturing actually look like? The following shows the example of a customer fleet and its development over time - at the production location for truck engines mentioned earlier.
Three DS-3 robot manipulator blast machines were installed there in 2000 to clean cylinder heads. Over time, these three machines have been upgraded and modified to keep pace with requirements and technological advances.
In 2009, a DS-5 robot manipulator blast machine followed, equipped with ten U70x500 blast wheels at 45kW each and an abrasive flow of 560kg per hour. This machine was designed to be multifunctional and can accommodate various types of cylinder heads.
An internal air blast machine was needed in 2011, to clean cylinder heads for medium-size truck engines. Designed on the basis of a modular concept, the machine initially consisted of one 'cell', with the option of expanding capabilities by adding further cells, thus making provision for increased production of this engine type.
The next challenge, in 2012, was that engine blocks now also needed internal blast treatment. A whole new machine had to be developed for this application – to be installed within a tightly defined space. The internal areas of the new engine block designs were, again, complex.
The custom-designed machine was delivered in close collaboration with experts at the customer, and the first iteration -with a cycle time of 240 seconds – went live during summer 2012.
The road ahead
Due to ongoing demand for highly efficient car and truck engines, constant improvements and upgrades to existing blast machines will continue to be necessary across automotive production.
In close partnership with the customer, the team in Zürich develops blast technology at the cutting edge of high-end engine manufacturing and integrates it successfully into existing production lines. When it comes to engine production environments, the work for blast machine experts never really ends.