Blasting Scania Ferruform into top gear
Scania Ferruform, manufacturer of components for Scania trucks, buses and engines, has commissioned Wheelabrator to modernise and upgrade a vital blast machine used for descaling.
The upgrade, taking place in stages since March 2016 should see blast cycle times improve by up to 20%, according to testing carried out at Wheelabrator's dedicated customer application lab.
The Swedish company, which is a wholly owned subsidiary of Scania Group, produces rear axles, side beams, cross members, bumpers and other frame components for Scania's global fleet.
The existing 20-year-old Spencer and Halstead blast machine is used to descale these crucial components, but was found to be causing production delays due to its unreliability.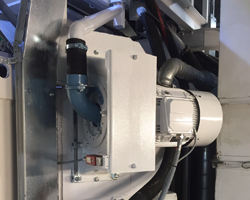 An expert inspection from the team at Wheelabrator Plus revealed that the eight original belt-driven wheels on the machine were at the source of Scania Ferruform's problems.
Overheating of the spindle assemblies driving the turbines, as well as life time wear of the parts, was causing poor performance and unacceptable operating costs.
As the existing machine was installed in a confined space and embedded into the existing footprint, replacing the machine entirely would have been logistically challenging.
For this reason, Scania Group was keen to understand if an upgrade of the existing machine was possible.
The Wheelabrator Plus team worked closely with Scania Ferruform to devise an Equipment Modernisation Programme (EMP) that will transform the operation of the blast machine.
The plan centred on the replacement of all eight belt-driven blast wheels with Wheelabrator TITAN direct drive wheels, significantly reducing maintenance downtime.
Additional advantages the TITAN wheel offers over the existing wheels include:
improved blast performance,
reduced abrasive consumption,
improved machine uptime, and
noise reduction.
As well as replacing all eight blast wheels, Wheelabrator will provide eight frequency converters for the new wheels allowing the revolution speed to be adjusted in order to achieve different blast intensities.
The company will also be adding the latest safety features to the machine, ensuring it meets Scania Ferruform's exacting safety standards.
In addition to these technical advantages, Wheelabrator is able to guarantee local availability of spare parts and short lead times for obtaining them.
A key part of the modernisation process will be training and educating Scania Ferruform's operation and maintenance staff, ensuring the new TITAN wheels will be kept in peak condition.
Wheelabrator will be installing the first new blast wheel jointly with Scania Ferruform, so that Ferruform's own staff will be able to install the subsequent seven new wheels.
Jonas Fahlesson at Scania Ferruform said: "Wheelabrator's expert assessment of our current issues and flexible approach to creating a solution convinced us that Wheelabrator was the top choice to carry out this work.
The testing carried out before the work commenced, showed us that upgrading the existing machine really could deliver the performance we need. We look forward to seeing the new blast wheels up and running later this year."
Ulrich Goos, EMP Manager at Wheelabrator Plus said: "Scania Ferruform's existing Spencer Halstead machine was closely integrated into their production line, with many of the machine components still in good condition. The blast wheels are the key components in any blast machine and have the greatest impact on machine performance.
Through testing we were able to show Scania Ferruform that an upgrade of the wheels on the machine would deliver the uplift in performance that was needed, at a third of the price of a new machine."
EMP check list
An EMP can be beneficial when:
there are operational problems with the current machine set-up resulting in higher costs per part or an inability to meet output targets,
manufacturing, cleaning or emissions standards and regulations change,
ergonomic or health & safety requirements change,
the product changes (with regard to dimensions, complexity, type or surface specification).