Discover our plate and structural steel machines
Rolled steel plate, shapes and fabrications are used across a wide range of sectors, from construction to ship building.
Cleaning the steel to remove rust and mill scale is a vital part of production and can be done efficiently and thoroughly using shot blasting.
Wheelabrator's Plate and Structural Steel Machines are designed specifically for blast cleaning in metal fabrication. Based on a roller conveyor wheelblast design and specifically developed to meet the needs of the fabrication industry, the range of machines descales and removes rust prior to fabrication.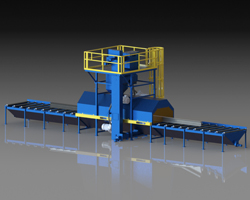 This provides a better surface for welding and improves coating adhesion. Large sections can be cleaned quickly, saving time and reducing bottlenecks in production. Often, for large or more complex structural steel parts it is assumed that manual airblast will be the only option. Wheelblast, however, is more powerful, faster and usually more cost-effective.
With three standard sizes, as well as completely customizable options, the Plate and Structural Steel range of machines is able to accommodate multiple structural pieces of steel. Featuring a fully welded construction steel blast chamber, the machines have been fitted with all the latest Wheelabrator technology, including EZEFIT wheels and a blast zone protected by Long-Lyfe™ premium alloy liners.
The machines include a part detect function which reduces abrasive consumption and machine wear by ensuring the abrasive is only blasted when a part is actively passing through the blast area.
The standard machines are available for workpiece heights of 18, 24 or 36 inches and widths of up to 8 feet. Equipped with four blast wheels and a variety of add-on features, the machines deliver excellent performance, alongside flexibility and reliability. To ensure the machines will fit into buildings with lower headroom – a common requirement in older workshops – there is an option to have a double elevator arrangement on the machine, rather than one tall elevator.
Trevor Burns, Applications Technology Manager explains: "Blast cleaning is by far the best option for steel fabricators or processing houses requiring preparation of steel for welding, cutting, coating and so on. Not only does it make the steel easier to weld, it will also reveal any defects in the workpiece, cut down on the dust and dirt produced, ensure weld spatter doesn't stick and prepare the surface for any coating. The Plate and Structural Steel range of machines offer a highly effective wheelblast option, even for very large steel parts and in low-headroom buildings."
The range will be showcased at FABTECH 2016 and is available for purchase now.