Safran Landing Systems visit their new machine
The Wheelabrator Technology Centre in Charleville, France, welcomed a team from Safran Landing Systems (previously Messier-Bugatti-Dowty) in June for pre-acceptance of their new MPR 3500 LDG machine.
The machine will shot peen aircraft landing gear parts at Safran's facility in Gloucester, UK, specifically for the fatigue enhancement of bogie beams for large passenger jets.
The process is crucial in ensuring long service life and reliability of the bogie beams, one of the main components of the landing gear which bears the load of a passenger aircraft, ensuring a smooth and safe landing.
At Safran, these include the Boeing 787 Dreamliner and the Airbus A350, with respective maximum landing weights of up to 202t and 233t. Bogie beams for these types of aircraft are around 2.5m long and are made from Titanium, a material used for both its strength and weight reduction benefits.
The new MPR 3500 LDG can peen externally and internally at the same time – externally via a robot manipulator, and internally via lance-mounted blast nozzles. It replaces an existing Wheelabrator machine that is 30 years old. Cycle times with the new machine are around 50% shorter. Scott Niedzwiecki, Process Engineer at Safran Landing Systems, is holding manual controls for the robot manipulator (seen in the background), which can be used to record blast programmes that are then carried out automatically by the robot arm.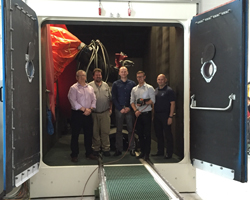 The Aerospace team in Charleville developed the special controls on the machine that ensure NADCAP compliance and traceability. For example, the exact blast process for every individual part is recorded and filed, and can be retrieved and printed out for auditors later.
The machine for Safran Landing Systems will now be shipped to Gloucester, for commissioning in August.
Alain Portebois, Sales Director at Wheelabrator in Charleville, said:"This is the type of highly specialist equipment for Aerospace applications that we absolutely excel at. Demands on process control and accountability have always been high in this sector, but we're now also seeing ever more complex part geometries and new materials. The requirement to efficiently peen both on the outside and the inside of parts and the added complication of processing Titanium are cases in point! We're looking forward to seeing the machine in operation."