Small changes, big savings for steel goods manufacturer
A North American producer of forged steel wheels and axles for the rail industry has realized a saving of $86,000 in abrasive over only 10 months - thanks to minor adjustments made to their shot peening machines by Wheelabrator Plus.
The company has exclusively used Wheelabrator equipment for shot peening since the 1960s, when the Association of American Railroads (AAR) specified that all railcar and locomotive wheels must be shot peened to strengthen and protect them against fatigue. Three Wheelabrator railway peening machines are used to shot peen approximately 6,000 wheels a week to a specification set by the AAR.
In May 2015, the company found they were no longer consistently achieving the specification set. Their abrasive mix needed to maintain 85% S660 steel shot at all times, but this was not the case. The problem was raised with Brian Cappallo, Director of Sales & Service at Wheelabrator Plus, who visits the company regularly to ensure blast operations are running at their best.
Brian analyzed the machines to see how they were performing and identified minor adjustments which would resolve the problem. This included changes to the separators to adjust the mix of abrasive in the machines, as well as modifications to the process controls and wheel settings.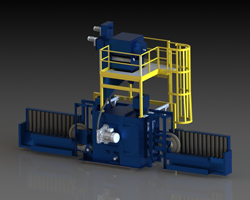 He performed these adjustments on one machine and at the same time provided training and a list of parts to allow them to adjust their other machines to match. In addition, Brian delivered a training session to their machine operators to ensure the machines would be kept operating to spec.
Ten months on, the company reports that not only are the machines consistently hitting the correct specification but they have saved an estimated $86,000 on abrasive. Brian said: "We have a close and long-established relationship with this company and I'm there to make sure they are achieving their targets with our machines. Meeting a tight specification again and again, without fail, is becoming more and more important for all our customers. We have worked together as one team to make the adjustments needed to bring the machines back to optimum performance. The additional training we have delivered for their machine operators also means they can maintain the machines to operate consistently to the required specification."